Golden Lane Community Centre
Golden Lane Community Centre (top)
Golden Lane Community Centre is the home venue for most clubs, including Dulwich. It's in Central London near Barbican tube. You will play a lot of your matches there, so we've created this page to help you get there.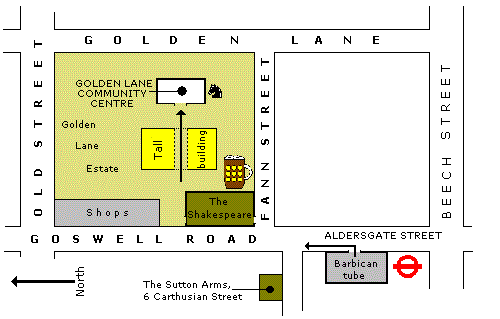 Address: Golden Lane Community Centre, Great Arthur House, London, EC1Y 0RN
It's a bit tricky to find the first time because it's in the middle of a housing estate. The map above is the best one to go by when you get close. The best approach is to find the Shakespeare pub and then walk under the archway and directly perpendicular to the main road, down some steps under another archway to a double-door way directly facing you. The main chess room is straight ahead as soon as you go in.
Getting There
More Info and Maps
View Larger Map
Club Fundraising (top)
Help us raise money for FREE! Click the link below and shop at your favourite online stores, and Dulwich Chess Club will get some money :)